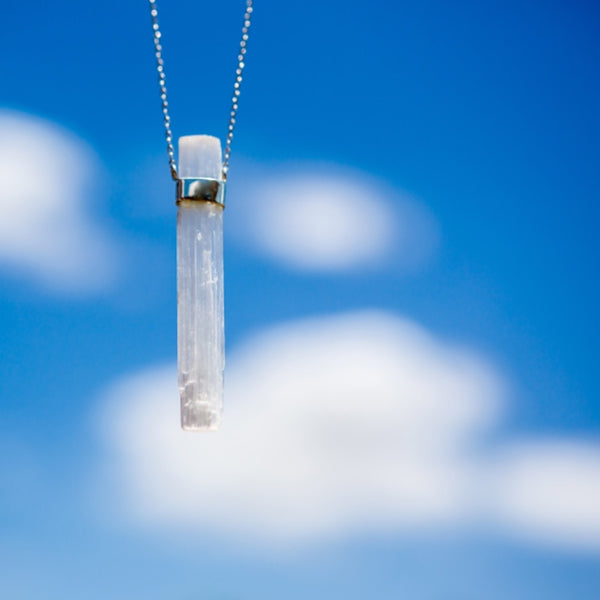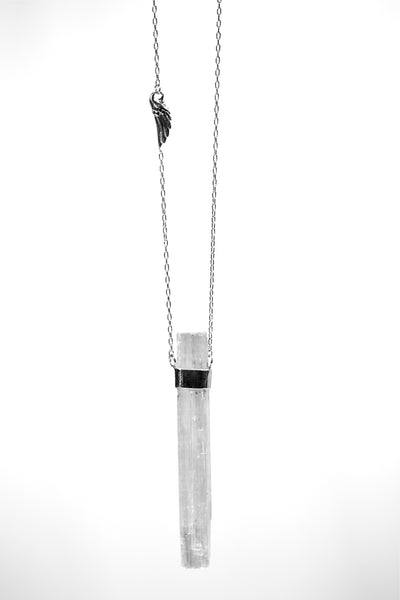 Selenite Pendant Necklace
Selenite is one of the few minerals that has the ability to quickly unblock stagnant energy and remove negative energy. Perfect pendant to wear for purifying energy and energetic protection. Features an angel wing for inner peace, good fortune and protection.
*Please note: Selenite is very fragile crystal and we recommend no contact with water.
Sterling Silver. Length: 24". Pendant Dimension: 3"L x .25"W. Made in USA
Ways to Recharge Your Crystals and Gemstones

1. We recommend placing the stones in the moonlight for a few hours. However, we don't recommend placing the piece in the sun to recharge. Sun exposure may damage the silver.

2. Smoke your crystals and gemstones with sage. Sage is a purifier that has been used for centuries and works extremely well for clearing negative energies. Burn your sage in a bowl and hold your stones or jewelry over the smoke while setting the intention of purification.

3. Place your stones and silver on top of an amethyst cluster overnight. The amethyst will absorb any negative energy and recharge your crystals and gemstones.

Cleaning Your Sterling Silver
It is important to keep your silver away from harsh creams, soaps, and salts. We recommend that when you are not wearing your jewelry, wrap it in a soft cloth and store in your Angels & Emeralds jewelry pouch. For cleaning and restoring its brilliant shine, polish it with a "soft-cloth" for silver jewelry.
What is your Intention? 
 Attract what you desire most by setting an intention along with your jewelry. Through the Gemstones, Crystals, and Silver, your jewelry becomes a tool to help harness the energy you need from the universe while you are wearing it. Simply state your intention aloud while putting on your jewelry. You may use the inscription on your jewelry, the affirmation card provided to you with your purchase, or you can create one for yourself! Don't be afraid to ask for what you desire, and BELIEVE! 
---